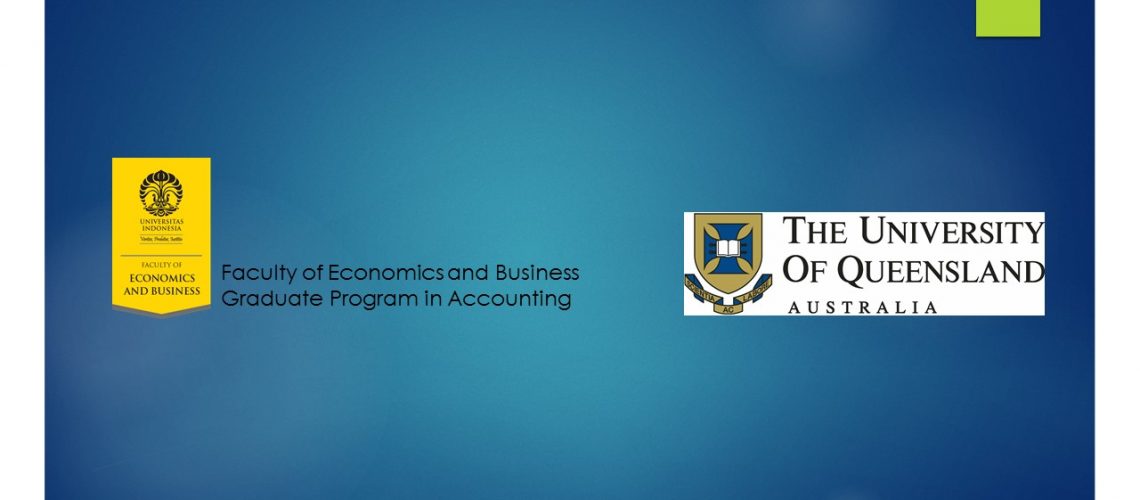 Joint Degree with The University of Queensland, Australia
MASTER PROGRAM
Double Degree (Joint Degree) With The University of Queensland Australia
This Joint Degree Program is intended to provide students with international exposure in both academic and social life. Graduated students attending teh Double Degree Program in Accounting will be entitled to two Master degree i.e. M.S.Ak from Universitas Indonesia (UI) and MCom from the University of Queensland (UQ).
In this program, students are expected to apend four ful-time semesters. The first semester is in Universitas Indonesia, the nest two-semester is in University of Queensland for finishing at least 8 (eight) coursework, and the last semester (semester 4) students will come back to Universitas Indonesia to finish their master by research thesis.
Requirements:
Fulfill all documents required by UQ before their admission.
Hold a bachelor degree or equivalent in the same discipline* from a University in Indonesia or overseas.
Pass the Universitas Indonesia entrance examination (SIMAK UI).
Pass the first semester courses at UI.
IELTS: Overall Band Score of 6.5 and a minimum score of 6 in in each sub-band of writing, reading, speaking and listening or TOEFL (Internet-Based-iBT): Overall score 87 with a writing score of 21 and reading, speaking and listening score of 19, or TOEFL (Paper-based): Overall score of 570 and a minimum score of 5.0 in the last Test of written English (TWE) and 54 in Listening and Reading. English requirements for UQ can be found at bit.ly/bel_lenguage.
Note:
same discipline as in :
https://bel.uq.edu.au/australia-qualifications-framework#Business_same_disc
Scholarship
Scholarship Information for Single and Double Degree Master Program: http://www.lpdp.depkeu.go.id/
Scholarship Information for Double Degree Master Program: scholarship.uq.edu.au
CRICOS
Provider Number: 00025B
THE JOINT DEGREE CURRICULUM

Course Works in the Programme at UI & UQ

First Semester

Studying at UI

Second Semester Studying at UQ

(February – June)

Third Semester Studying

At UQ

(July – November)

Fourth Semester

Studying at UI

Management Accounting Seminar
LAWS7023

Business & Corporate Law

FINM7403

Portofolio Management

Elective 3
Basic Econometrics
ECON7002

Economics for Commerce

INFS7221

Informations System Control and Audit

Presentation of Research Results
Financial Accounting Theory and Attestation
ECON7300

Statistics for Business and Economics

ACCT7104

Corporate Accounting

OR

Laws7012

Business Taxation

Thesis
Auditing
ACCT7102

Financial Accounting

Corporate Financial Policy
RBUS6902 Quantitive

Business Research Methods │*(students must meet a UQ GPA of 5.75/7.0 in order to ernol in this course)**
*   You can start your study at UQ in june or february,
depending on your enrolment period at UI which occurs twice a year
** When your GPA do not qualify to take RBUS6902,
several research subjects are available as the alternative.
For additional information please contact academic affairs of PPIA.